Foodstuffs has recently gone live with a new consolidated master data platform. There are currently several standard NPC processes that aren't yet fully supported by their new system. We are working through this with Foodstuffs, but for the meantime, please be aware of the below specific issues and workarounds that Foodstuffs has in place.
If you have queries on any of the below, please feel free to call our Support Team on           0800 10 23 56
Foodstuffs' intended point-of-sale selling unit must be loaded as the lowest level of the packaging hierarchy e.g. think of a bottle of beer that comes in a 6-pack, and 24 pack shipper. If the bottle itself is never "sold" at a Foodstuffs POS, they don't want to see the bottle as part of the hierarchy.
2.  Bulk Bin products sold in a fixed-unit shipper need to have a 'dummy' GTIN number created and marked as a variable unit with a leading 9 identifier. Foodstuffs system will currently reject any items sold as variable, but ordered as fixed weight.
3.  All products must have the lower level identifier set as a base_unit_or_each even if it is supplied in a case. This contradicts GS1's current "bulk foods representation" guideline.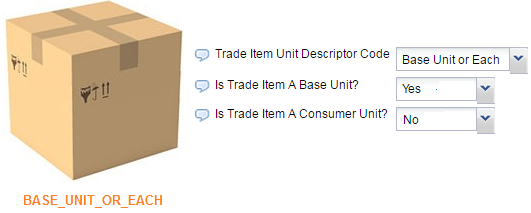 4.  Cannot have the same retail unit loaded against two different article numbers e.g. an item which can be supplied in a case of 6 or a case of 12
5.  If Foodstuffs sell a unit of your product individually after a packaging breakage, load that unit to NPC per below. Load the unit only and create a price entry for it of $0.01. This will allow Foodstuffs to sell it if they need to. 
6.  Foodstuffs (currently) have no way to link a single case to many base articles. For example, with the below "display shipper", each of the retail GTINs are a separate article in Foodstuffs (applies to both DISPLAY_SHIPPER & MIXED_MODULE). Their system cannot cope with a level that is shared by several other hierarchies. In order for Foodstuffs to process the data, each display shipper needs to be loaded as an EACH of 1 with no lower hierarchy. The linking for the lower UOMs can be communicated separately to the regions and the link for inwards goods supported regionally. Foodstuffs' national team is happy to help to co-ordinate this process (0800 555 985).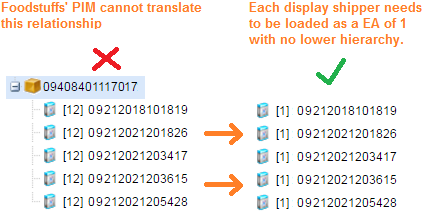 7.  Fresh Produce is now able to be loaded to the NPC, subject to the below:
As of the 9th of February 2017, any "National" or "Foodstuffs North Island" vendors will now need to use either ProductFlow/NPC (or Data Express) to submit product information to Foodstuffs. Foodstuffs South Island will also make use of this data.
Note: if you are a Foodstuffs South Island only vendor, you need to continue to use UBFs presently.
8. In order for Foodstuffs to process your article your Price Effective Start Date must have passed. In order to prevent any issues with processing the data we recommend selecting today's date for this attribute when you are entering a new article.